Latest News
60 per cent of City Walk Sur completed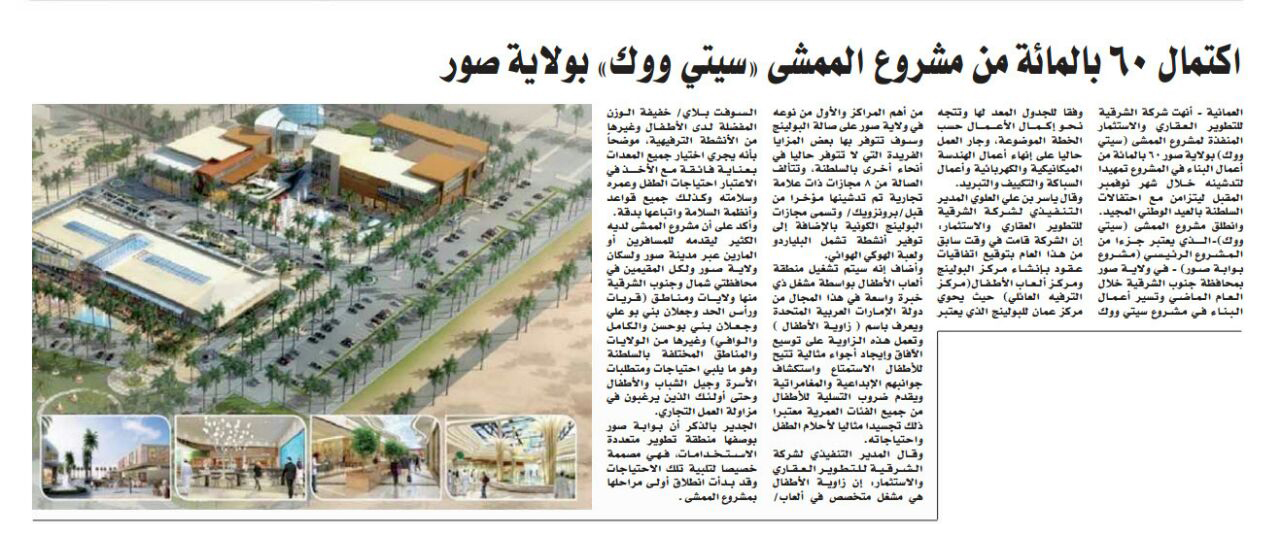 03-Nov-2014
Oman's Sur Gate Project to offer jobs, better services
Muscat: Residents of Sur will soon have more job opportunities and they won't have to drive as far to go shopping, relax in posh coffee shops, and have fun playing games like bowling, thanks to the Sur Gate Project, currently being built near the city's industrial area.

Speaking with Times of Oman, Yasser Al Alawi, Managing Director of Al Sharqiya Real Estate and Development which is developing the project, said the multipurpose integrated complex will include a shopping mall, hypermarket, entertainment facilities, residential zone and a four-star hotel, resulting in many new jobs and easy access to products and services previously unavailable in Sur.


09-Sep-2014
Sur Gate'project set to enhance economic growth
The landmark 'Sur Gate' project, a prestigious development that was launched in Sur, by Al Sharqiya Real Estate and Investment Company has begun to take shape. Of recent, construction activity has commenced on the 'Sur Gate' project and this phase of the project is scheduled to be completed by October 2015.

The entire project of Sur Gate covers an area of 217,000 square meters and it is strategically located at the entrance to Sur, adjacent to the main Sur-Muscat highway. The project will feature a multitude of world class amenities including residential zones, a luxury hotel, a hypermarket and a mall. Work has commenced on the first phase, which includes a host of entertainment facilities and it is named 'City Walk' (Al Mamsha).